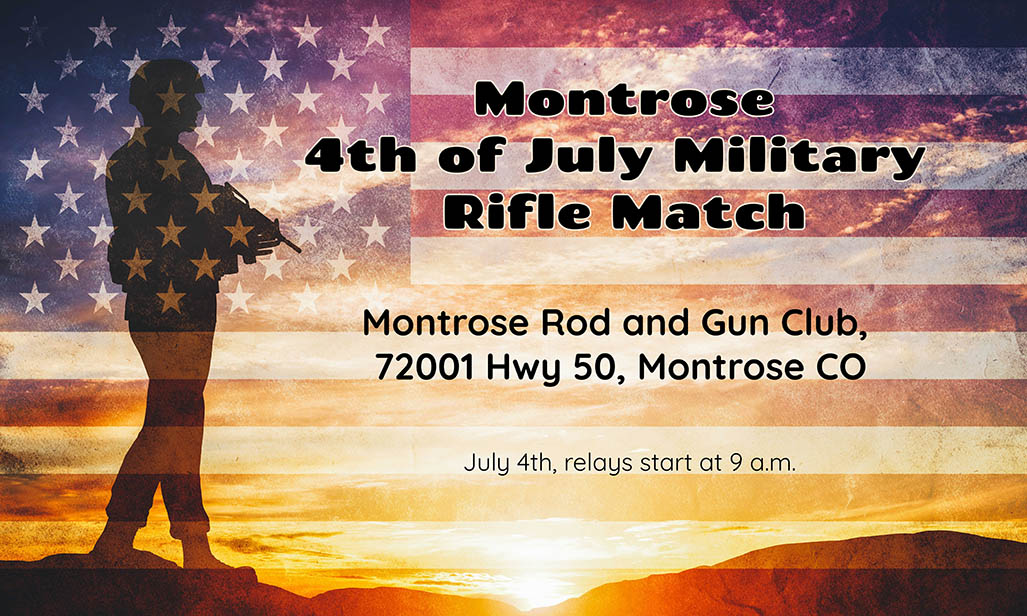 Do you own a military rifle? Come on over to the range and shoot with us on the 4th of July
The match is fired in relays, every half hour, starting at 9:00 AM with the final relay being fired at 2:00 PM. This is a low round count match, with each relay requiring only 20 rounds (one box of ammo). Prizes will be awarded.
The match will be held at the MR&GC Outdoor Range on U.S. Hwy 50, 5 miles east of the Montrose city limits.
You can shoot any rifle you want to bring to the match. It doesn't have to be a military rifle.
Match Divisions:
US military rifles (or reproductions) will be divided into divisions as follows:
LITTLE BIG HORN – Trap Door Carbine 45/70,
SAN JUAN HILL – Krag Carbine  30-40,Winchester 95 carbine 30-40
SPANISH – AMERICAN VOLUNTEER – Trap Door Rifle 45/70
BOXER REBELLION – Krag Rifle or M1895 Lee Navy
AMERICAN ENFIELD – US Army Rifle Model of 1917
LEGENDARY 03 – '03,'03A1, '03A3,MK I 03, (NO SNIPER)
PORK CHOP HILL – M1 Garand
KHE SANH – M1A   7.62 Nato
FALLUJAH – M16/M4 Service Style (5.56 – No Magnifying Optics)
AMERICAN SNIPER – Any  US Sniper Rifle
MSR Irons – Any Modern Sporting Rifle (AR-15) with iron sights
MSR Glass – Any Modern Sporting Rifle (AR-15) with optical sights
BOLT GUN Irons – Any non-military bolt-action rifle with iron sights
BOLT GUN Glass – Any non-military bolt-action rifle with optical sights
TRAINER – Any  22 Rimfire rifle.
Rifles not listed above will be permitted, and will be placed into the appropriate division by the Match Director. (The list of possible rifles is nearly endless).
Special Categories:
Awards will be made in the following special categories:
VETERAN/ACTIVE DUTY – Highest score for a US military veteran or active duty armed forces
YOUNG WARRIOR – Highest score for shooter under 18
ROSIE THE RIVETER- Female with the highest score of the day
Gear:
Slings are permitted, but not required. (actually their use is encouraged).
Bipods are permitted only in the AMERICAN SNIPER Division.
Tripods are not permitted.
Shooting rests and bags are not permitted, including rear bags.
Optics are permitted only in the AMERICAN SNIPER, MSR Glass and BOLT GUN Glass Divisions
Red Dot optics are considered as optics for the purpose of this match.
Non-Magnifying Red Dot Optics are permitted in the FALLUJAH division.
Relays:
Relays are mixed, with the ability for multiple divisions to be fired by different competitors simultaneously.
Competitors will be allowed to shoot multiple relays with the same rifle in the same division, in which case only his highest score for that division will count.
Competitors will also be able to fire different rifles in different divisions, as they so desire.
For instance, the same competitor could fire an M1903 in the LEGENDARY 03 division in one relay, and shoot an M1 Garand in the PORK CHOP HILL division in another relay.
Course of Fire:
The match will be fired at two NRA SR-1 rifle targets, one each at 100 yds and 200 yds for centerfire riles. Rimfire rifles will shoot at 25 yards and 50 yards.
Each relay will consist of 4 separately timed strings:
String 1: 5 shots in 5 minutes, standing off-hand at 100 yds. (25 yards for rimfire)
String 2: 5 shots in 2 minutes, kneeling, at 100 yds. (25 yards for rimfire)
String 3: 5 shots in 2 minutes, sitting, at 200 yds. (50 yards for rimfire)
String 4: 5 shots in 2 minutes, prone, at 200 yds. (50 yards for rimfire)
Strings:
Each string will start with the competitor in position, with an unloaded rifle.
At the start of each string, the Range Officer will give the command to Load.
Once the competitors are loaded, the RO will call out "Are you ready?".
If no competitor indicates otherwise, the RO will call out "Stand by", and 3 seconds later the timer will sound a beep.
When the timer expires there will be another beep, and the competitors will immediately cease fire and prepare for the next string.
After the final string, the RO will call "Unload and show clear" and the competitors will open their bolts or lock their actions back, remove their magazines (if equipped) and insert a provided chamber flag.
The rifles will then be carried muzzle up and be placed in the rack.
The RO will call "Range is clear".
Competitors will then proceed down range to pull the targets and return to the firing line to score, while the competitors in the next relay hang their targets.
Scoring:
There will be no make-up shots permitted.
Each target will have the lowest 10 rounds scored.
A shot that touches a higher-scoring ring will receive the higher score.
An X is scored as 10 points, and the number of Xs are recorded.
The total point and total X-count is the sum of both targets,
Awards:
Match proceeds will be split between the competitors and the Montrose Rod and Gun Club, with 50% of the proceeds paid out as awards.
Awards will be paid for each division, according to the Lewis System.
At the discretion of the Match Director, similar divisions with insufficient entries may be combined for the purposes of awards.
Cost:
Each relay costs $10 to shoot.
Competitors can shoot multiple relays with the same, or different, rifles.
Registration:
To reserve your spot on a specific relay (shooting time) advance registration is requested, if possible.
Registration is free through Practiscore at: https://practiscore.com/montrose-4rth-of-july-military-rifle-match/register
If you do not have a Practiscore account, it is free and easy to get one.
Special Thanks to Stan Gurski of the New Jersey Arms Collector Club who is the originator of this match.