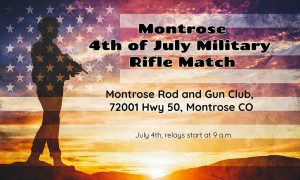 The Montrose Rod and Gun Club (MRGC) was originally incorporated in 1953 by a group of local shooting enthusiasts. The MRGC constructed the current indoor facility at 1211 6450 Road between the years of 1979 and 1983. Although repairs have been made throughout the years, the indoor facility remains today much as it was in 1983.
The property for the outdoor range was acquired in 1976. By 1978, the outdoor range had one outdoor rifle range and one trap field. In years following, covered benches were built and berms were erected to separate the pistol, rifle and shotgun ranges. In 1984, club members added the skeet shooting facilities and the restroom facilities.
The MRGC is seventy years old and on the brink of moving into the next millennium. Cowboy Action Shoots, 5 Stand Sporting Clays and Silhouette Shoots have become part of the landscape at the MRGC outdoor range.
Though MRGC is a private club, our events are open to the public. Please see "events" for a list of activities our club offers.